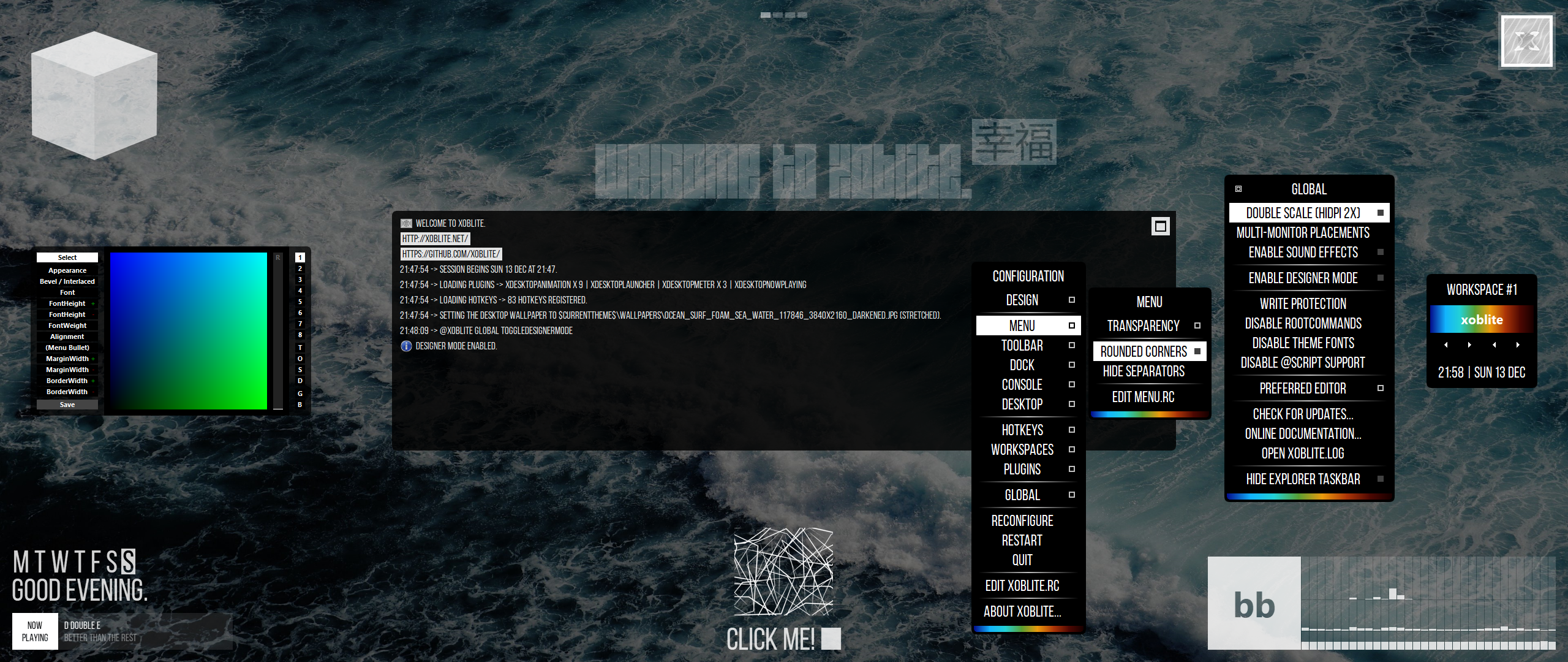 Welcome to xoblite.
This post and/or thread will be continuously updated with new information following new releases.
The latest version - xoblite bb5 RC4 (0.20.12.13) was released on December 13th, 2020 (related post).
Direct download -> http://xoblite.net/f...ite_bb5_rc4.zip
This .zip bundle also includes my new plugins...
xDesignerGUI (release candidate) - a "privileged plugin" providing a GUI for the xoblite bb5 Designer Mode, placed in the core shell main folder and loaded/unloaded automatically when said mode is enabled/disabled.
(nb. as this is tightly coupled to the core shell itself, please post any comments on this topic directly in this thread).
xDesktopAnimation (official release) - an advanced bitmap animation plugin. The default bb5 theme uses no less than 9 (!) instances of this plugin...
xDesktopLauncher (release candidate) - a sophisticated button matrix launcher plugin.
xDesktopMeter (release candidate) - a system meter plugin. The default bb5 theme uses 3 instances of this plugin (one each for CPU, network and memory).
xDesktopNowPlaying (early beta) - a work-in-progress "now playing" plugin for Spotify users. (nb. being an early beta, I have not created a sub-forum for this plugin yet).
More on these later too perhaps, but in the meanwhile, please share your experience of them in the related sub-forums!
(and btw, each plugin's configuration menu is opened using Right click or Ctrl+Right click depending on the plugin and sometimes its current mode/state).
Oh, and while the full documentation is not yet ready - see continuously updated works-in-progress at http://xoblite.net/docs/ and http://xoblite.net/docs/plugins/ respectively - please read the short included README.txt at least. More details will follow, but I figured you're probably savvy enough around here...
Enjoy!
BR//Karl aka qwilk/@xoblite